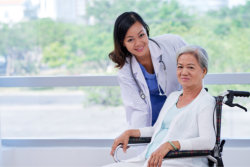 M & M Home Care provides professional skilled services at home, as ordered and directed by the patient's doctor. We provide hands-on care, and teach the patient and caregivers what they need to know about how to manage care at home. A nurse is available 24 hours a day for phone consultation or visits if needed.
Nurses visit to assess, do hands-on care, and teach about disease and medication management, and pain and symptom control. Specialties include IV therapy, diabetic education, and wound and ostomy management.
Physical and Occupational Therapists, and Speech Pathologists develop coordinated rehabilitation plans based on your personal goals to promote mobility and daily activities, often for people who have had a stroke, fracture, joint replacement, or trauma.
Home Health Aides provide friendly assistance with personal care such as bathing, dressing, and changing the bed linens.
Dietitians consult with the team to evaluate diet and teach meal planning to reach your health goals.
Insurance coverage
We accept all Michigan No-Fault where necessity requires home health care. We will work with your physician and insurance provider to review your benefits.
M & M Home Care is there to assist in any way we can. Through our comprehensive Care Assessment and evaluation of an individual's activities of daily life (ADLs), we can determine exactly how much care and assistance your loved one may need.
For more information about our services, please don't hesitate to give us a call at 248-599-2410. We look forward to assisting you today!