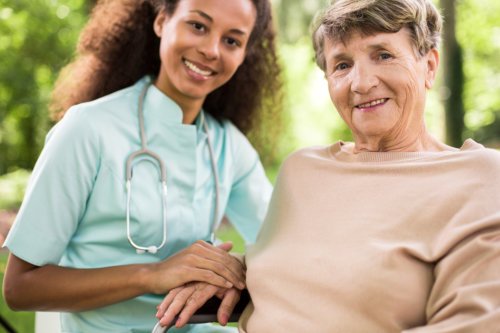 M & M Home Care is one of Michigan's leading home care services. As a nurse-owned and operated business, M & M Home Care specializes in caring for Michigan No-Fault Auto and Worker's Comp accident cases resulting in traumatic brain, spinal cord and other catastrophic injuries.
Using our home care team includes Registered Nurses, Occupational Therapists, Registered Dietitians, and Certified Massage Therapists, Competency Evaluated Nursing Assistants (CENA), and Community Living Support staff (CLS), also known as Home Health Aides (HHAs).  Our mission is to help our patients reach their maximum level of function and independence. We seek to improve our patient's all-around well-being (physical, psychological and social) in the comfort of their own homes.
​Our Culture
Our motto is "Exceptional Care, Exceptional People!" and we've built our reputation on integrity and professionalism. If you are looking for an in-home caregiver for your loved one, M & M Home Care is an sound and reliable choice.
It is an important part of M & M Home Care's culture to create successful relationships with our caregivers, clients and families by identifying and serving our patient's specific care needs.  We make every effort to ensure that our health care professionals have the training, experience and the qualifications to provide the services that our clients depend on us to provide.  This is evident in our ongoing efforts to assess and refine all management, clinical, training and support processes.
Our Caregivers
At M & M Home Care, employees must consent to a complete and thorough background check that includes a criminal history, personal and licensure versification. All M & M Home Care staff skills are assessed to provide the services that our clients deserve and depend on.
M & M Home Care is a bonded and insured agency.
Patient Portal
Unlike other home care services, M & M Home Care offers online family portal technology that allows for the client's and their family to monitor caregiver schedules at the click of a button.  Behind the scenes, we host a well-staffed, enthusiastic office support team to guarantee that scheduling and client contracting is an efficient and easy process.
M & M Home Care is an active member with Michigan Brain Injury Provider Council (MBIPC), Brain Injury Association of Michigan, Rehabilitation and Insurance Nurse Council (RINC), the Coalition Protecting Auto No-Fault (CPAN), the Better Business Bureau and the Livonia and Plymouth Chambers of Commerce.